2015
SINGAPORE
I am very proud and excited to be collaborating with established Italian artist collective Love Difference, to Singapore, to conduct a unique Masterclass Program for the very first time
in January 2015 at the Singapore Art Museum.Please join us for this unique opportunity to participate in a 2.5 day interactive workshop by Love Difference @ Singapore Art Museum.
Please also see the attached PDF for more information on the workshop.

We look forward to meeting with you. Spread the word!
HeART OF COMMUNITY: A Master Class with Love Difference
Brack is a platform for socially-engaged art and artists, with an emphasis on community engagement. For the first series of 2015, Brack has invited Love Difference, an artist collective from Italy, to conduct a Master Class on harmonising the creative process in relation with a community. Love Difference has focused on community-based public art since 2002.
The workshop explores the responsibilities of the gesture, the narrative dimension of the creation, and the sustainability of the production process to enhance the creative process.
Public Talk
Tue 27 Jan 2015 7pm-8.30pm
Workshop
Fri  30 Jan 2015 7pm – 8.30pm
Sat 31 Jan

10am – 1pm, 2.30pm – 5pm
Sun 1 Feb

10am – 1pm, 2.30pm – 5pm
SAM Level 3, Gallery 3.7
Standard Rate $120 Subsidised Student Rate: $60
Pop-up Event
1 Feb 2015 (Sun), 6.30pm – 9pm
Food for Thought at SAM at 8Q
2014
SINGAPORE
Invitation: DECK the Hall, 20 Dec 2014, 3pm
My art work "Resting on the Horizon" is currently on view at DECK.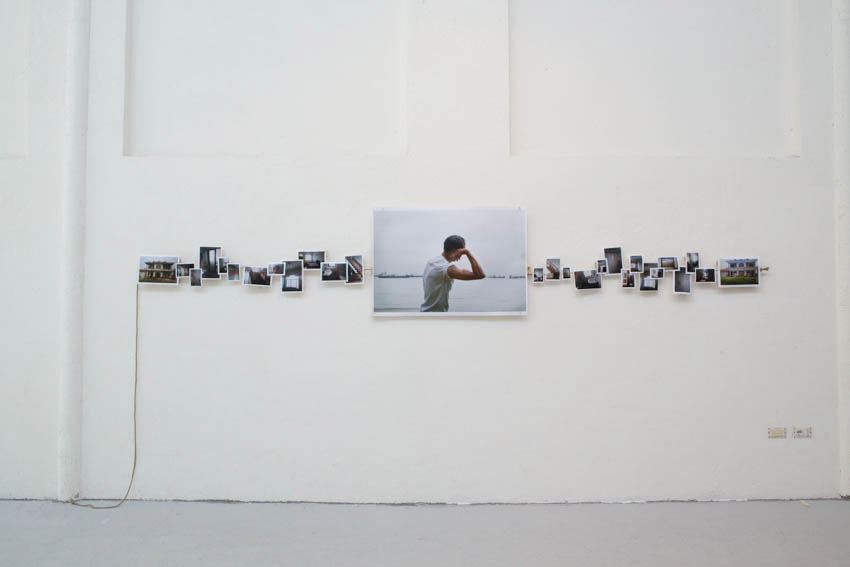 Exhibition Dates: 6 – 20 December 2014
Closing Party: 20 December, 3pm
Artists: Joel Yuen, Shigeru Takato, Sherman Ong, Robert Zhao Renhui, Meridel Rubenstein, Norihisa Hosaka, Kim Hak, Zann Huang Huizhen, Anida Yoeu Ali, Sean Lee, Ang Song Nian, Miti Ruangkritya, Alecia Neo, Kee Yating, Oliva Marty, Prateep Suthathongthai, Bob Lee, Darren Soh, Wawi Navarroza, Zen Teh
The journey of being an artist, or nurturing any art form, parallels the process of a plant anchoring strongly in soil, growing tall and weathering elements overtime.
DECK, launched with the dream of pushing local and regional photography to new heights, requires that conditions to germinate and blossom. The team behind this brainchild understands that every stroke of genius trickles down from years of uncompromising hard work and a firm foundation, be it in technical mastery, artistic experience or aptitude – qualities mirrored in the artworks featured in this showcase. Most importantly, like art making, this is an endeavour that could not just be achieved in isolation. We need you, the catalyst of change, to weight in.
These works are generous donations by some of the most promising and well known photographers of our time, and all proceeds would go into laying the infrastructural groundwork for DECK.
Together, let's break new ground in Singapore's arts and cultural landscape.
Made of 19 refurbished shipping containers, DECK is a unique space of galleries, artist studio and library. Moving into 2015, we will launch a brand new series of programmes and a community art library. Ongoing is our fundraising exhibition GROUNDWORK which 20 artists donated their works to support DECK's core programmes for artists in 2015.

Date: Saturday 20 December, 2014
Time: 3pm – 5:30pm
Location: Deck, 116 Prinsep Street, Singapore 188665
(Near to LASALLE College for the Arts)
Programmes
3pm – Guided tour of GROUNDWORK by curator Patricia de la Motte
4pm – 5:30pm – Meet the-artist-session
Tea Refreshment will be provided.
SEA Arts Festival 2014 (London)
Join us for a live chat: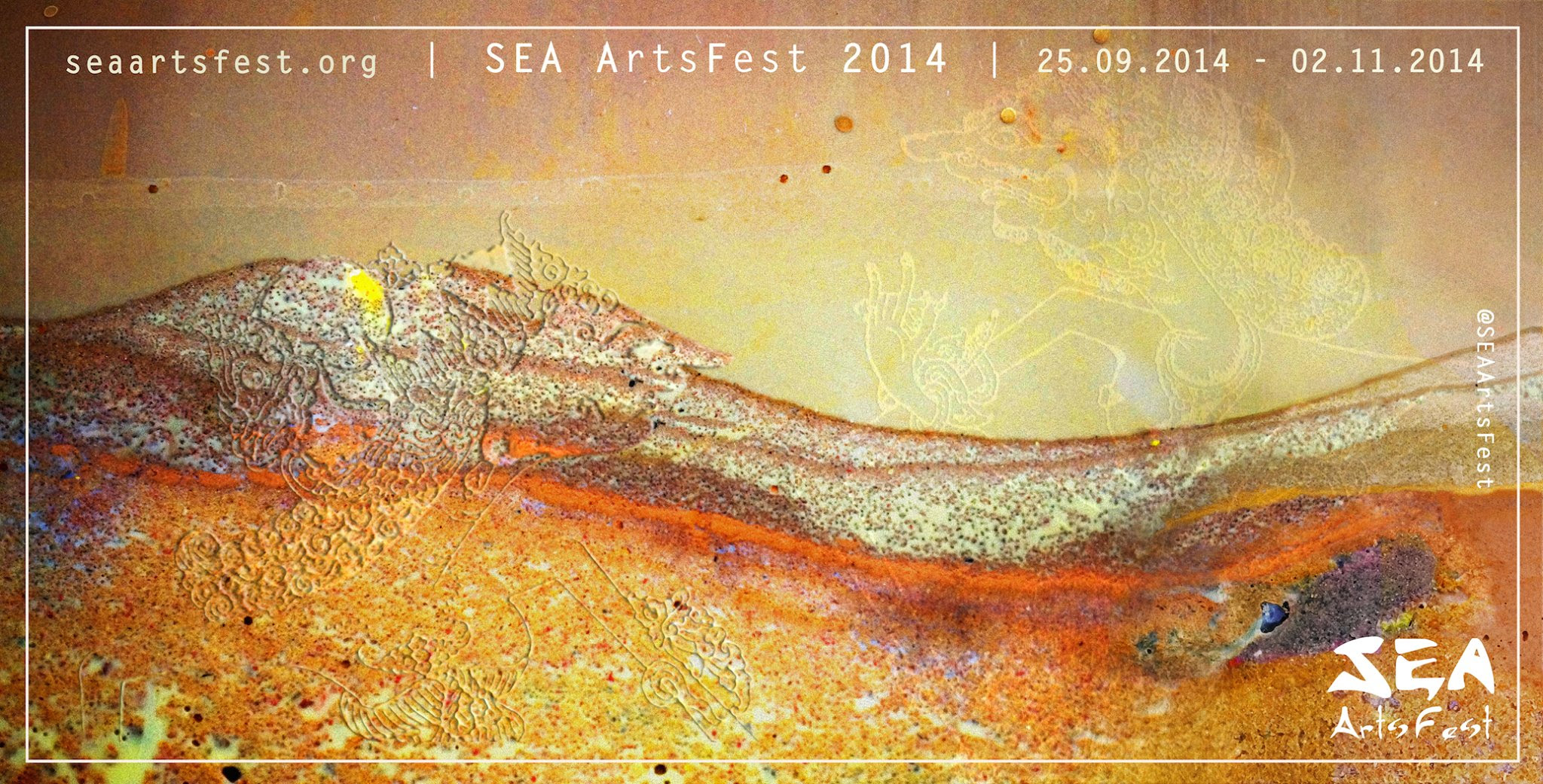 WHEN
Sunday, 26th October 2014
12pm (London, UK – GMT)
7pm (Cambodia – GMT+7)
8pm (Philippines & Singapore – GMT+8)
WHERE
Online: Google Hangout
Offline: 
Independent Archive & Resource Centre
(67 Aliwal Street, Singapore)
TITLE
Online and Local, Worldwide: Discussion art, digital platforms, and Southeast Asia
DESCRIPTION
An online presentation & discussion, featuring:
- Roger Nelson: curator, 
Online and Local, Worldwide: Five Websites From and For Southeast Asia
-  Sidd Perez: PlantingRice.com
- Pen Sereypangna: Phnom Penh Visions
- Pip Kelly: curator, 
Jorng Jam
- Melanie Chua, Alecia Neo & Nasri Shah:
Brack
The discussion explores key questions in Roger Nelson's Online and Local, Worldwide project in relation to the websites featured in the latter, as well as the projects presented by the discussants.
How problematic is it to frame contemporary art and related practices from Southeast Asia in regional terms, insofar as these projects are concerned? How do digital platforms enforce or diminish the varying boundaries of contexts – the local, the regional, and the global – and the distance(s) between them?
SENSORIUM 

360°
Featuring Unseen: Touch Field (2014)
by Alecia Neo
Braille drawings, book, video projection and sound
Installation dimensions variable
Singapore Art Museum commission
M1 Fringe Festival 2014: Art & the People
Festival Commission: UNSEEN
Feature on Unseen in Jetstar Asia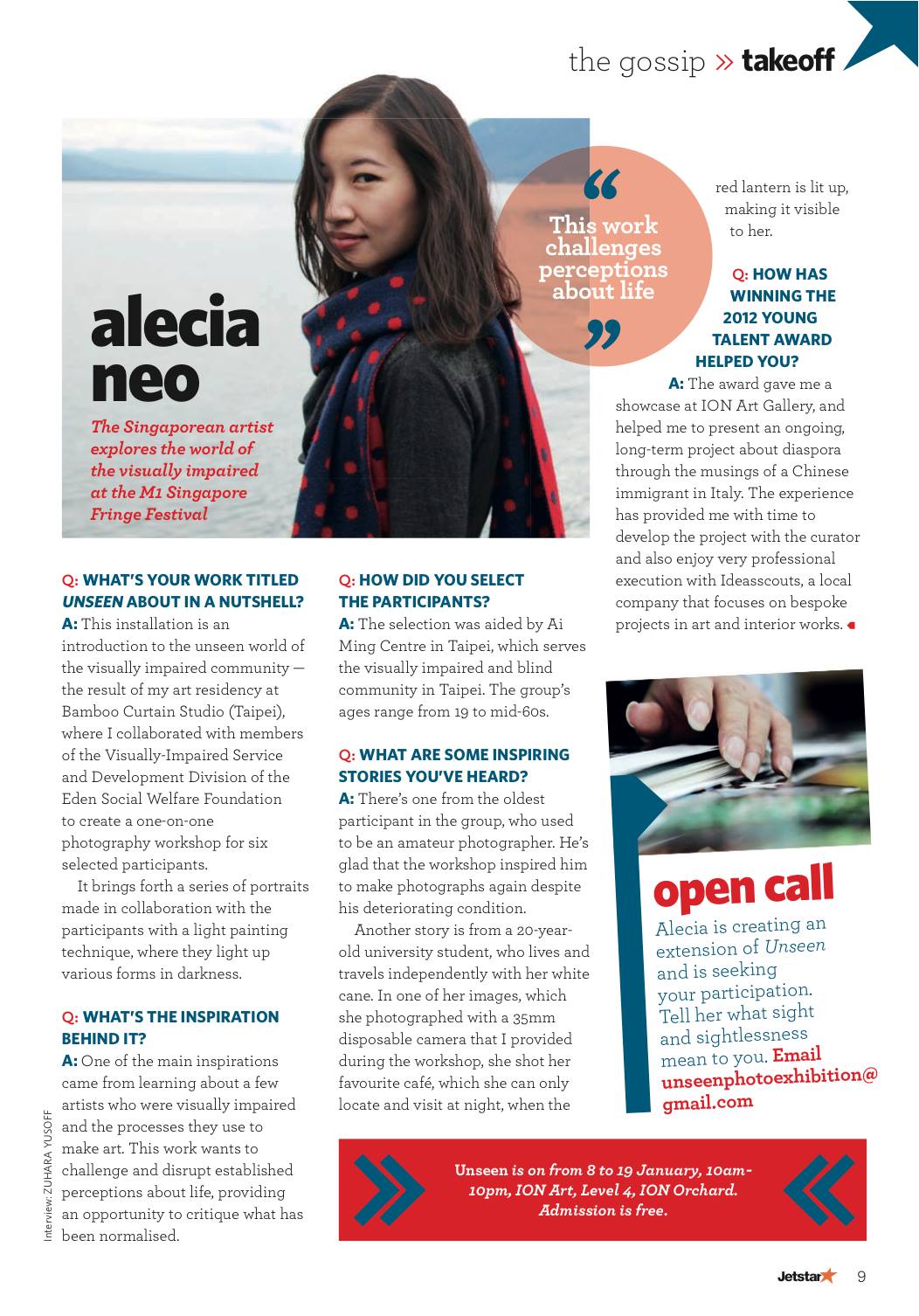 Artwork feature in Singapore International Foundation's Magazine
2013
SINGAPORE
Feature in Home & Decor Magazine (Singapore) for the Affordable Art Fair's Young Talent Program Award

2012
TAIPEI, TAIWAN
"UNSEEN: An Extraordinary Photography Exhibition" – Taipei, 30th Nov 2012
Visual artist Alecia Neo has initiated a project which collaborates and develops fine art photography work with and for members of the Visually-Impaired Service and Development Division of the Eden Social Welfare Foundation in Taipei (Ai Ming Centre).
During the one month long workshop, the participants learned to express themselves through image-making and writing. The photographs and interviews collected will be exhibited at Ai Ming Centre, in conjunction with a dialogue session. The dialogue session will involve the participants, Eden Social Welfare Foundation, Bamboo Curtain Studio and the artist.
This exhibition was co-organised by Bamboo Curtain Studio (Taipei) and supported by the Singapore International Foundation.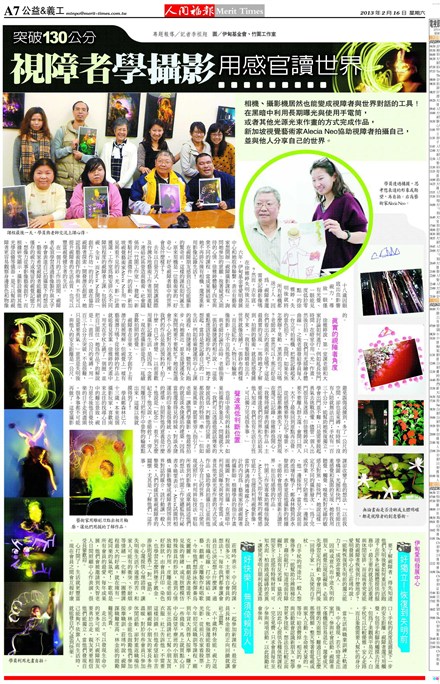 ITALY
CITTADELARTE , UNIDEE 2012
Opening 5th of Oct 2012
A Life in Common
art&culture changing key aspects of urban life
Exhibition curated by Ana Džoki? and Marc Neelen (STEALTH.unlimited) and Juan Esteban Sandoval (Cittadellarte)
Participants: Van Abbemuseum (Eindhoven), Pravo na Grad – Right to the City (Zagreb),
Stroom Den Haag (The Hague), Macao (Milan), Row Houses Community Development Corporation (Houston), aaa (Paris), Smári McCarthy / IMMO (Reykjavik)
Collezione FRAC Piemonte – Fondo regionale Arte Contemporanea
Memory and place disclosed
Exhibition curated by Lucrezia Cippitelli

Artists: Lara Amarcegui, Tobias Buche, Duncan Campbell, Sam Durant, Jimmie Durham, Robert Kusmirowski, Lisa Oppenheim, Reena Spauling (FRAC). Ayman Alazraq, Lindsay Benedict, Angela Henderson, Dina Karaman, Karl Logge and Marta Romani, Alecia Neo, Meghna Singh (UNIDEE). frac-lab: Ayman Alazraq, Lindsay Benedict, Angela Henderson, Dina Karaman, Karl Logge, Hektor Mamet, Alecia Neo, Marta Romani, Zaman Shah, Meghna Singh.
SINGAPORE
Edwin Thumboo – Time Travelling: A Poetry Exhibition
Co-curated by Michelle Heng, Alvin Tan, Vincent Lim and Alecia Neo
In collaboration with Clarence Chung, Samuel Woo and Liansheng Wang
Opening on Saturday, 29 September 2012, 5.30pm at The Pod, Level 16, National Library Building.
The Guest of Honour for the event is Mr. S. Dhanabalan, Chairman, Temasek Holdings.
Exhibition will be ready for viewing from 10.00 am on Saturday 29 September 2012. Guests are encouraged to view the exhibition before proceeding to The POD for the launch. Please proceed to Level 1, Lobby to take the lift to The POD.
VALENTINE WILLIE FINE ART: SINGAPORE SURVEY 2012
NEW STRANGE FACES
OBJECTIFS – Portraiture Now: Featuring selected work from Villa Alicia
WERK Magazine! – Featuring a new series of images, 'Female Muscle' by Alecia Neo
M1 Fringe Festival 2012: Art & Faith
Goddess of Mercy (Alecia Neo)
Fringe Commission
The Substation Gallery
15 – 26 Feb 2012
Cover Story on The Straits Times Life!
TODAY Paper
120206 – Today – Private becomes public (02&03)
2011
SINGAPORE
Ascendas CEO Night 2011
It was a wonderful night at the Ascendas 10th Anniversary celebration. Along with 9 other artists and designers, my work "Home Visits" was selected to be part of their commemorative book.
Farewell to Villa Alicia 6th – 11th Aug 2011
Its a wrap!
Thank you everyone who has helped made this work possible – the Tans, our dear sponsors, the beautiful families who took part in the project, best of friends, and my sweetest parents who have been cheering us on since the start.
Do keep in touch: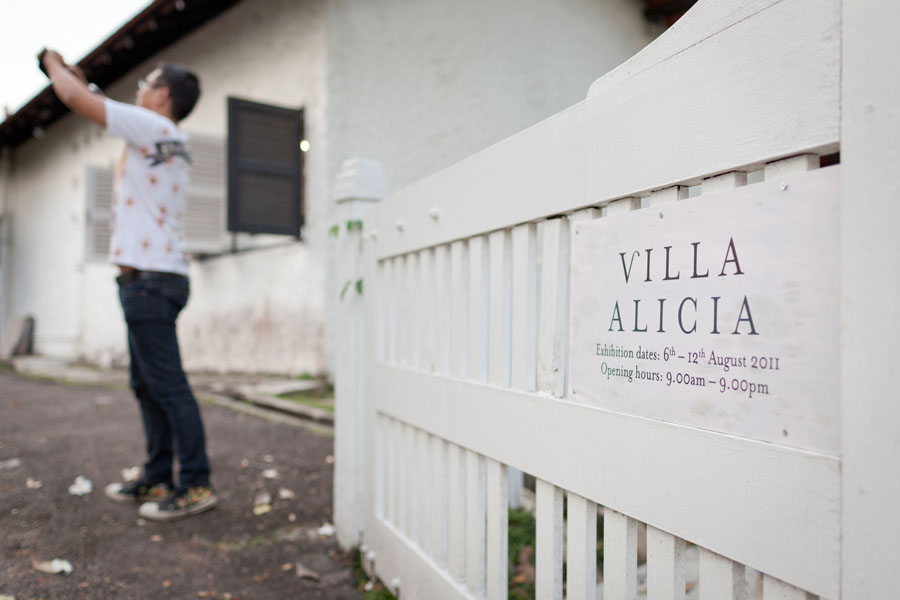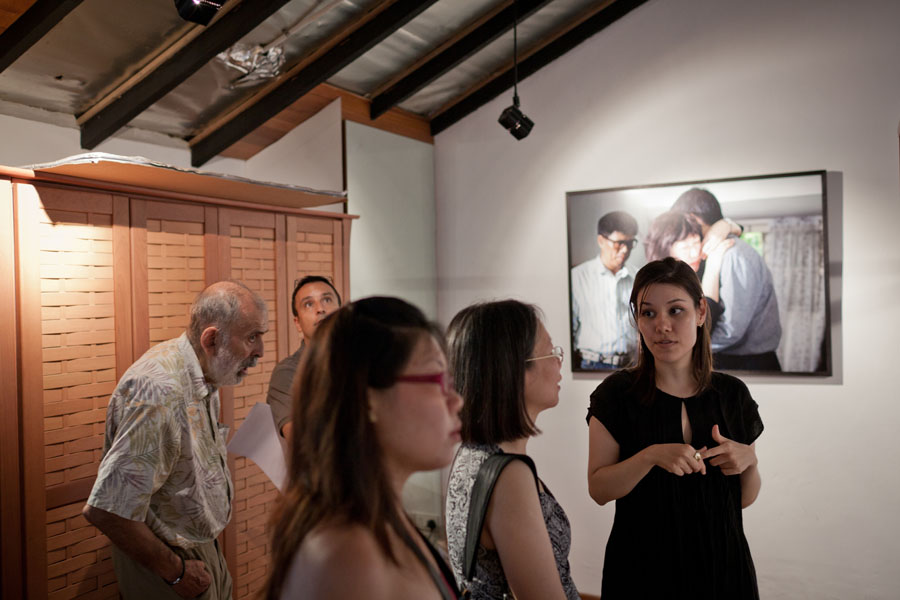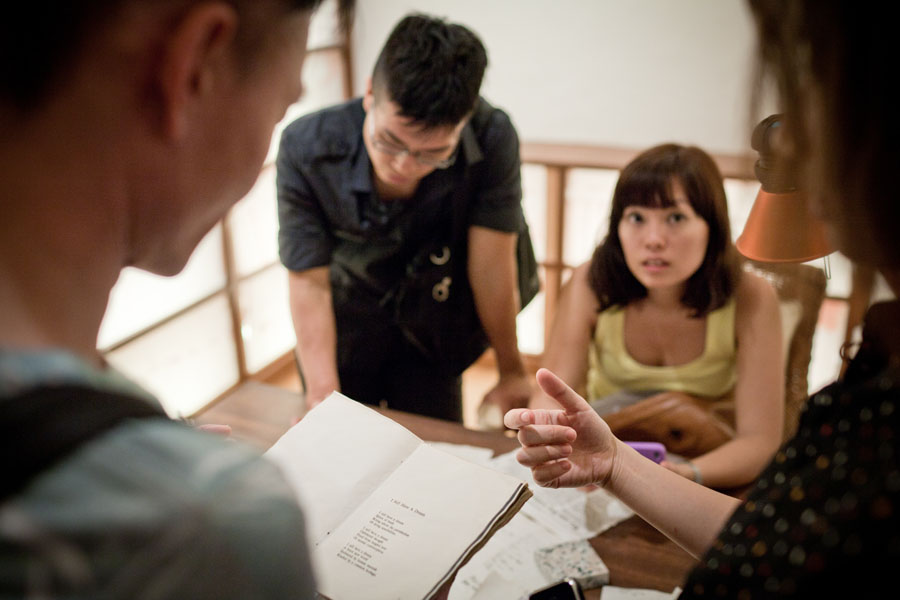 Please Visit: www.villaalicia.info for more details on my upcoming show this August!
'MOMENTS' – A PICTURESQUE INSIGHT TO THE WORKS OF 5 PHOTOGRAPHERS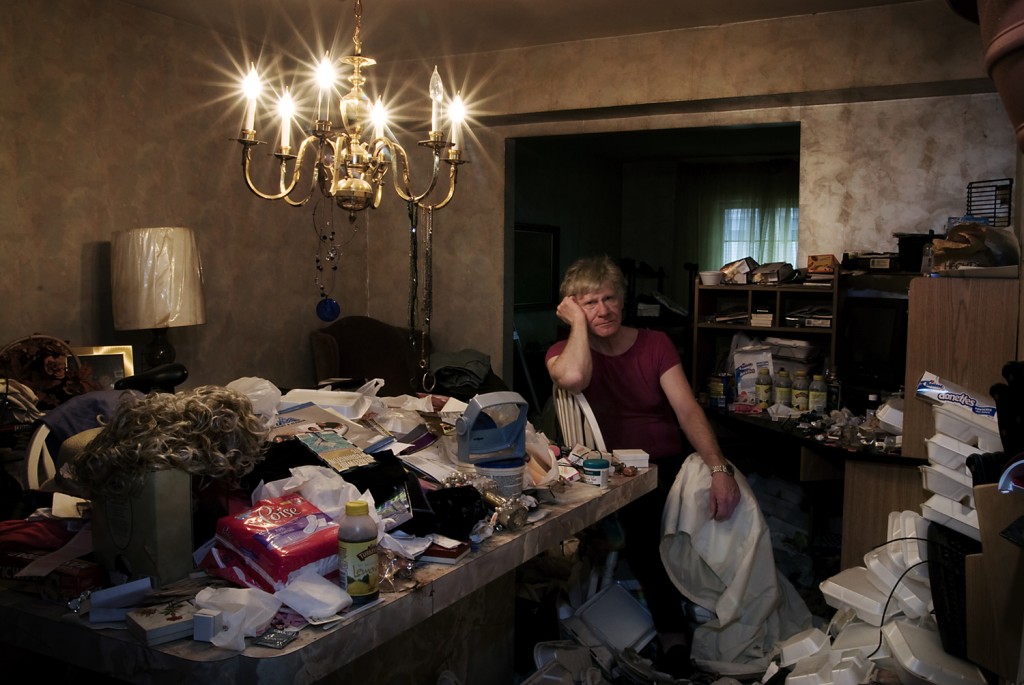 Terry (from the series "Hiatus"), Archival inkjet print on fine art paper, (print size variable) : edition 5 + 1 AP
SCYA will be collaborating with PEEK! to showcase a series of 5 exhibitions and artists' talk by 5 Young Contemporary Artists. This exhibition will take place from mid-February to the end of April at PEEK!, 36 Armenian Street.
Dates and Duration
19 February to 28 February – Wong Ru Yi
5 March to 14 March – Alecia Neo
19 March to 28 March – Matthew Teo
2 April to 12 April – Nur Aidah
16 April – 25 April – Lim Shengen
The talk will take place at 330pm – 5pm and the opening from 6pm to 9pm on the same day of each exhibition.
Talk fee
$20 per entry for public and $10 for students! (ID required for students) Talk includes drinks and light snacks.
Location
PEEK!
36 Armenian Street, #01-04/ #02-04 Singapore 179934
Opening hours:
12pm – 8pm (Tuesdays – Saturdays)
12pm – 7pm (Sundays)
Download the media release for more information:
MOMENTS – SCYA & PEEK Media Release
Click for SYCA's Blog
2010
CHANGSHA, HUNAN PROVINCE, CHINA
"World Photographic Collage Exhibition"  at the 2010 International Orange Festival
OCTOBER 22 – 26 2010
Selected work from Alecia Neo's "Home Visits" will be exhibited.
Michael and Philip (from the series Home Visits), Archival inkjet print on fine art paper : 64 x 84 cm (print size) : edition 5 + 1 AP
SINGAPORE
Alecia Neo's "Home Visits" will be exhibited as part of the 2nd Singapore International Photography Festival, 2010. Curators for the 2nd SIPF 2010 are
Mr Ark Fongsmut (Thailand)
Director of Bangkok University Gallery
Ms Bridget Tracy Tan (Singapore)
Director of Nanyang Academy of Fine Arts Gallery
Mr Chow Chee Yong (Singapore)
Lecturer of Temasek Polytechnic
Mr Yasufumi Nakamori (Japan/United States of America)
Assistant Curator of Photography, The Museum of Fine Arts, Houston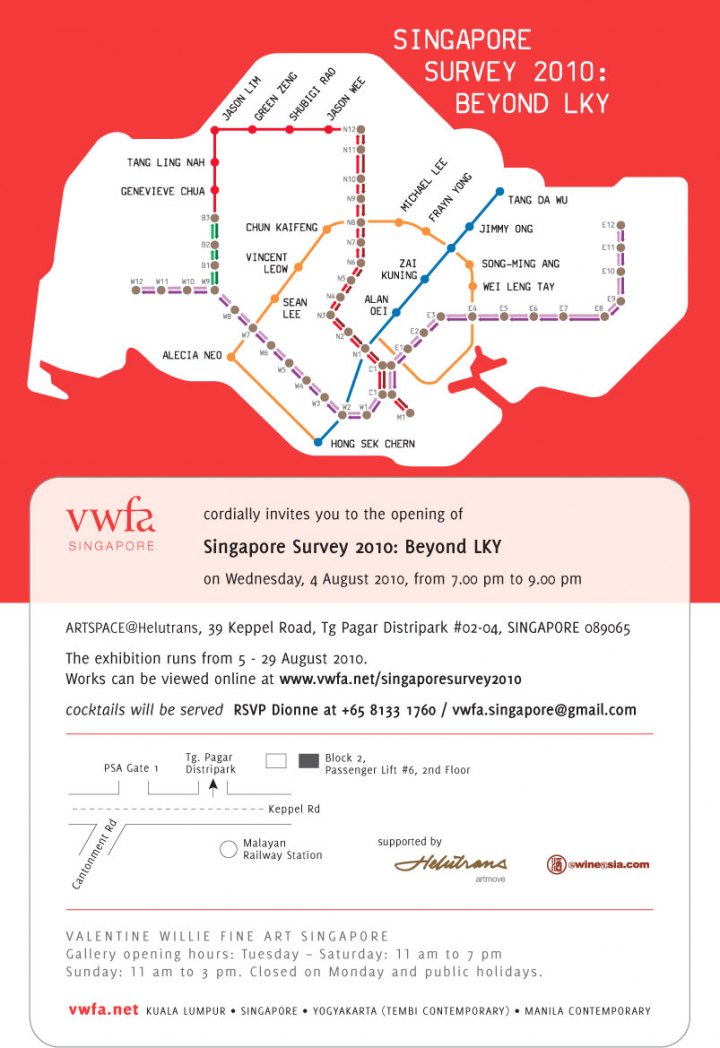 2010 Singapore Survey 2010: Beyond LKY, Valentine Willie Fine Art, Singapore 2010
5 – 29 AUGUST 2010
"Public Conversions"
Wang Cao, 2010 :: Archival inkjet print on fine art paper :: 65 x 48.58 cm (print size) : edition 3 + 1 AP
Event: Etiquette: On Sitting Down & Shutting Up
What: Exhibit
Start Time: Thursday, April 1 at 7pm
End Time: Saturday, April 10 at 9:00pm
Where: The Substation, 45 Armenian Street
To see more details and RSVP, follow the link below:
This Thank You Reception is to show our appreciation for the strong support from our Festival Partners and Sponsors, as well as to allow further networking amongst the design community.The Singapore Design Festival concluded successfully last year with a total of 104 activities presented across 4 Festival Hubs and 44 other venues islandwide.
The Reception will be held in conjunction with the Portfolio Show for Young Designers 2009 exhibition themed Illuminate, which was originally staged as the Feature Event of the Festival last year. This exhibition has returned for another showing at the MICA Building ARTrium until 16 March 2010.
Mr Sam Tan, Parliamentary Secretary for the Ministry of Information, Communications and the Arts, will be officiating as the Guest-of-Honour at this Thank You Reception.
Date: Monday 1 March, 2010
Time: 4.00pm – 6.00pm
Venue: The ARTrium (Lobby Level), MICA Building
Ministry of Information, Communications and the Arts
140 Hill Street
*Alecia's work from 'Hiatus' and 'Home Visits' will be showcased at the Portfolio Show. Do pick up a copy of the catalogue at the MICA building for more information.
2009
CAMBODIA
Angkor Photo Workshop 2009
Selected Participant
CALIFORNIA
The Berenice Abbott Prize for an Emerging Photographer 2009
Alecia Neo, Singapore
"Home Visits"
Click Here to View Alecia's Slideshow
Click Here to Download Alecia's "Artist Statement" (PDF)
SINGAPORE
Singapore Design Festival 2009
Selected Participant for Portfolio Show for Young Designers 2009
Feature on ARTS BEAT
August 2009
The Air-Conditioned Recession: A Singapore Survey
With Singapore facing its deepest economic recession, there is a growing sense amongst the people of this island republic that their government cannot always be expected to provide all the answers to their shared problems, that oftentimes, the answers lie within themselves. This also means a loosening of state strictures that have hitherto dominated social political debate within the republic. This loosening has also been hastened by the space that the internet allows.
The Air Conditioned Recession – A Singapore Survey, will attempt to address some of the underlying issues that remain under the surface by mining existing works by Singaporean artists created in the past few years.
Participating Artists: Alecia Neo, Amanda Heng, Alan Oei, Cheo Chai-hiang, Ghazi Alqudcy & Ezzam Rahman, Jason Lim, Jason Wee, Jimmy Ong, Jing Quek, Junaidi Waee, Lynn Lu, Michael Lee, Safaruddin Abdul Hamid, Tang Da Wu and Tan Seow Wei.
Paradise Lost
12 – 30 August
2902 Photo Gallery, Old School, 11B Mount Sophia, #B2-09
11am – 8pm (Tuesday to Saturday), 1–6pm (Sunday)
www.2902gallery.com
Presented by 2902 Photo Gallery
Paradise Lost is a project which seeks to redefine the boundaries of documentary photography and to
influence traditional perceptions surrounding the medium.
Curated by emerging photographer Robert Zhao, the exhibition will feature the works of Alecia Neo, Ang Song Nian, Shannon Castleman, Eiffel
Chong, Liana Yang and Koh Yee Ling – young photographers from Singapore and the region brought
together through an open call. Collectively, their works explore the relationship of time, space and light to
the sense of 'real-time' continuity that characterises the category of documentary photography.
PARADISE LOST
Artist Dialogue Session
Details:
Title: Paradise Lost – Artist Dialogue Session
Date: 23 August, Sunday
Time: 2pm
Venue: 2902 Gallery, workshop room
Facilitator: Ho Hui May
Participants: Eiffel Chong, Wong Yung Choon, Matthew Teo Wee Lip, Liana Yang, Ang Songnian, Alecia Neo, Zhao Renhui, Koh Yee Ling
There will be a quick run through of the participants' works and followed by a Q&A session.
"Home Visits" 2009
Selected prints from this on-going series will be showcased in June.
RSVP for the opening!
http://www.partyoftomorrow2009.com/
KUALA LUMPUR
Selected work from 'Hiatus' will be showing at The Annexe gallery in Kuala Lumpur, as part of this show.
WINNERS AND FINALISTS EXHIBITION AT THE ANNEXE GALLERY, CENTRAL MARKET, KL, MAY 7 – 23, 2009
Rojak13: Interiors
I've been invited to share my work at Rojak13, please come say hi!
It's happening on Friday, 23 January at 8pm. This time the event is hosted by the National Museum of Singapore. ROJAK 13 is presented by the National Museum of Singapore and Goethe-Institut Singapore and is held in conjuction with Come-In : Interior Design as a Contemporary Art Medium in Germany.The ROJAKers are: Gilles Massot (Art), Benjamin Tan (Film), Hans Tan (Industrial/Product Design), Mark Wee (Architecture and Interiors), Lin Weidong (Photograhy), Alecia Neo (Photography), Maxine Chionh (Art), Larry Peh (Commercial/Industrial Design), Donna Ong (Art) and Raihan Halim (Film). - #
2008
SINGAPORE
http://www.sculpturesq.com.sg/eventdetails.php?id=158
A Website Launch on Contemporary Young Artists in Singapore – 2008
6 Nov 2008 to 9 Nov 2008
Starting 15 October, the Singapore Contemporary Young Artists network (SYCA) will be presenting a website project featuring 23 Young Artist biographies and artwork images, interviews and short commentaries on the state of art in Singapore.
An exhibition on 6 November at Sculpture Square will serve as a launch for the site, featuring artists Angela Chong, Andrina Wong, Arnewaty, Chen Yi-Cheng, Farizwan Fajari, Hazel Lim, Jacklyn Soo, Nurasyikin Bte Hamzah, Marienne Yang, Maxine Chionh, Natasha Wei, Sabrina Koh, Safarrudin Abdul Hamid, Shubigi Rao, Tania De Rozario, Tan Seow Wei, Chang JinChao, Vertical Submarine. Other Arts: Alecia Neo, Ghazi Alqudcy, Jing Quek, Sha Najak and Zahir Sanosi.
Come see us 6th Nov evening at
CHICAGO
This is Not a Truck is proud to present it's last show of the 2008 season  –
An exhibition of four artists, titled "Communication Breakdown".
Emerging artists Bryce Beverlin II, Trevor Cusson, Erik Halverson, and Alecia Neo respond to our curiosity with human communication and, at times, our habit of missing the point.
Please visit blocartiststudios for new updates
"Communication Breakdown" and TiNT will be on view at these locations for Fall 2008:
8th Annual Pilsen East Artist's Open House
September 26th 6-10pm and September 27th 12-7pm
at 2028 Canalport (9/26 and 9/27 will be hosted by TiNT at the Canalport location)
and September 28th 10-4pm
at the Pilsen Farmer's Market, 1800 S Halsted (in the mobile art space at the Chicago Community Bank parking lot)
Nothing To Do With Red Pickups
October 17th & 18th 7pm-midnight
at Underscene, 2215 S Union
Join TiNT and Underscene for two evenings of film screenings, art shows, and open studios.
BALTIMORE, MD
Two of my images will be shown at the Towson Arts Collective Juried Photography Show!
Three of my images from 'Hiatus (prelude)' have been selected for the show
Am also very delighted to receive 1st place for my work in this show.